A good cold salad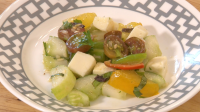 Ingredients
2 cucumbers
1 to 2 tomatoes
15 to 20 cherry or grape tomatoes
sweet peppers
fresh basil
parsley
chopped onion-dehydreated or fresh
granulated garlic or garlic powder
salt and pepper
extra virgin olive oil
red wine vinegar
cubed mozzarella (optional)-not to Uncle Randeaux. It's gotta be dare cher!
Directions
Cut cucumbers into 1/4 slices, cut the slices in half or quarters (personal preference)
dice the large tomatoes
cut the cherry or grape tomatoes in half
cut the peppers into small pieces
place all this into a bowl
Take the basil and cut into small ribbons and them in the bowl
Drizzle the mixture with the extra virgin olive oil to coat and add about a tablespoon of red wine vinegar (you can always add more)
now add the onion, garlic, salt and pepper (add to taste-don't forget you can add more but you cannot take it out)
cover and chill for about an hour to marinate in the fridge
Time to serve:
Remove the salad from the fridge and add your fresh parsley and cubed mozzarella. Toss, serve, and enjoy!